Unlike the other crypto iGaming websites which are mostly emerged from the west, OLE777 is an emerging crypto iGaming website which started from Asia and now planning to take over the globe.
OLE777 is an online crypto iGaming website. It is operated by Ole Group International B.V., a company incorporated in Curaçao where it holds its license.
The website was founded in Mar 2022 and since then has been operating and serving users from all over the globe.
Games Offering
OLE777 is a renowned name in South East Asian countries but the company planned to extend its presence globally. 
The website offers more than 3000 games on its platform in four categories
Sports

ESports

Casino

Slots
Sports: The website covers 32 major sports on their website which cover Cricket, Football, Basketball, Tennis, and Table Tennis like famous games.
One can find all the international and domestic leagues on the website.
ESports: Same as Sports the website cover all the famous ESports games like LOL, DOTA2, CS:GO, KOG, Wild Rift, FIFA, Rainbow 6, Valorant, SC2, NBA2K, Warcraft 3, OW, Call of duty, RL, CrossFire, HS, PUBG, and Fortnite.
If you are an ESports fan, you will surely love the website's user interface.
Casino: Unlike the Sports and ESports category where the website only has one gaming provider 'IM' in the casino section you have three options to choose to play.
PP Casino

AG Casino

EVO Casino
One can find all the famous and non-famous casino games on the website.
Slots: The website provides 200+ slot games in 31 languages and all major certified markets. The website has three sub-options like All Games, Hot Games, and New Games for easy access to the users.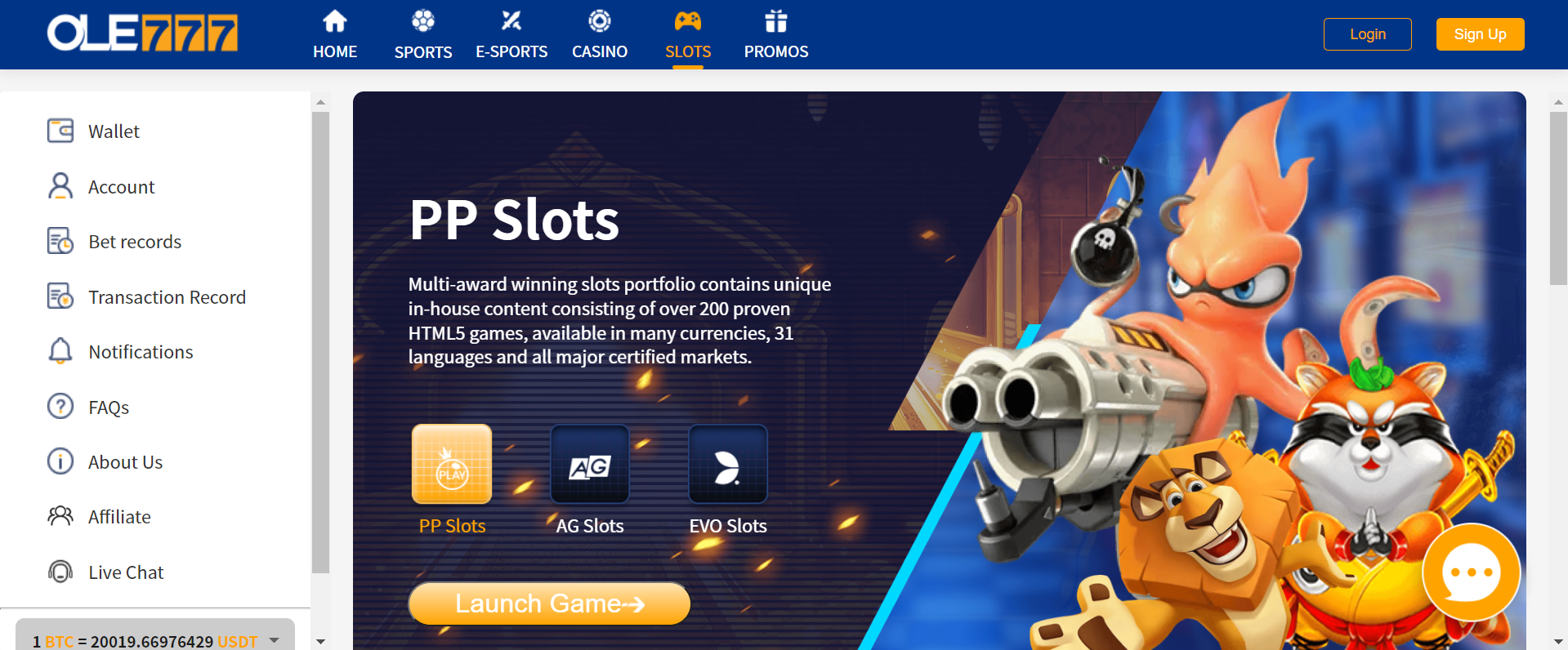 Payment Methods
As OLE777 is planning to become one of the leading crypto iGaming websites in the world, they only accept crypto payments on their website.
Deposit and Withdrawal Options: The deposit and withdrawal options are the same on the website. 
One can find all the famous coins like BTC, ETH and all famous crypto coins on the website.
CoinSwap: Another interesting feature OLE777 provides it's coin swap feature, the user can swap his coins/tokens directly on the website, without visiting on an exchange.
Future RoadMap
The company has a detailed track plan for its growth in 2022 and 2023. The goal is divided into 4 quarters after the launch:
Q2 2022

: Pre launch of the website with version 1.0 and different websites for every geo.



Q3 2022

: Company added new stable and famous crypto coins on their website, and removed all withdrawal fees for the players. More games have been introduced in the system and also social login/sign-ups options are provided. Website also launched its affiliate program.



Q4 2022

: Company is planning to launch blockchain games and refer to a friend program. We will also see a new version update in all OLE777 site version 2.0. And in this quarter we may see some great offers for the FIFA world cup.

Q1 2023

: In the starting of the new year the company will airdrop its own coin and will launch its application for Android and iOS. users.
What's Special
As OLE777 is planning to do great things this and next year, it will be quite interesting to see how things goes for the website, but overall the website is great for crypto users, who like to play casino or sportsbook. It is worth a try.