Top 10 Most Handsome WWE Wrestler
Most Handsome WWE Wrestlers: WWE is one of the leading pro wrestling companies in the world. The massive popularity of the company is not only attributed to wrestling but also from various sources like movies, music, and direct product sales. WWE was founded by Jess McMahan in 1952.  After the demise, the McMahan in 1954 his son Vince McMohan took over the reins of his father. He is one of the pillars for the massive success of the company. Under him, the company reached several heights and arguably WWE is the best pro wrestling companies in the world. Sportsroid has brought about the Top 10 WWE Wrestlers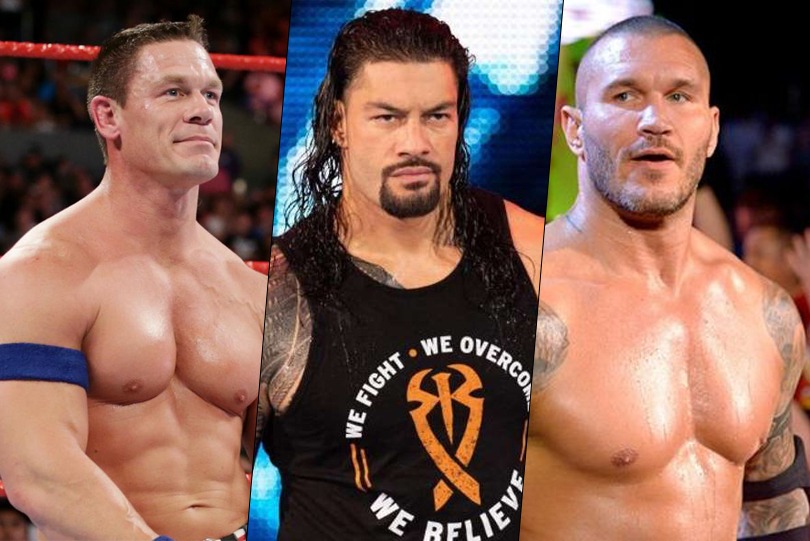 Top 10 Most Handsome WWE Wrestlers
WWE has produced the greatest superstars over the years. Dwayne Johnson is a perfect example of this. He started his career in WWE and now he is a famous Hollywood actor who has a huge number of fan following across the globe. In order to become a successful superstar, one needs to develop his own talent and needs to be handsome to reach the masses. There are many handsome superstars are there in WWE and here is the list of Top 10 Handsome WWE Wrestlers:
Edge
Who doesn't like Edge's mind-blowing spheres against opponents? He is not only a handsome guy but also fierce forces during that his playing. He won many accolades in WWE. He had a huge fan following during his playing days. Even today he draws the same crowd who still has the craze over him. He involved in various storylines during his playing days and was the prominent face of WWE then. He also appeared in two movies produced by WWE. After retirement, he still continues his career as an actor.
Top 10 Most Handsome WWE Wrestlers
CM Punk
The wrestler who had a rebellious image is a seven-time world champion is phenomenal even before his stint with WWE as he was a popular wrestler in NWA. He also signed a contract with UFC. Apart from wrestling, he is a famous comic book writer and an actor. He married to fellow WWE Diva AJ Lee. His ring presence and sharp tongue during promotions have made him so special. He also lends his voice to many goodwill principles like no-smoke and no-alcohol campaigns.
Also Check : https://sportsroid.com/otiz-biography-age-height-achievements-facts-net-worth/
John Morrison
John Morrison is one of the famous stars in WWE post attitude era. Though he has a short stint with WWE he had a huge fan base and will be remembered for his monotonous moves and his playing styles. He is currently wrestling under Lucha underground. Arguably he is one of the hottest wrestlers of all time.
Batista
No who follows WWE will not forget the team evolution and Batista. One of the Hottest WWE Wrestlers and extremely talented American wrestler has won three heavyweight championships, two tag team championships. He also appeared in other wrestling promotions like Ohio wrestling championships and others before settling with WWE. He is making his occasional appearance in WWE these days and also he is a famous actor in the Hollywood circuit.
Also Check : https://sportsroid.com/geeta-phogat-biography-personal-life-career-achievements/
Dwayne Johnson
Most Handsome WWE Wrestlers: Formally known as The Rock, is one of the most successful wrestlers in the history of pro wrestling and WWE. He was a huge star during the attitude era. The tall wrestler is occasionally making his appearance in WWE and he is a famous actor appeared in big movie brands like the scorpion king and the fast and furious franchise. He is also a producer after his successful stint with WWE he also made his filming career a most successful one.
The Miz
The Miz, one of the all-time greatest heels in the history of the WWE is also a handsome guy who acted in various movies and appeared in many TV reality shows. Before settling in WWE he also appeared in various other wrestling promotions like the ultimate wrestling pro and deep south wrestling.  He is married to fellow WWE diva Maryse Oullet.
Also Check : https://sportsroid.com/roman-reigns-wallpapers-hd-roman-reigns-images-hq-images/
Seth Rollins
The architect of the shield is one of the richest Americans who made his first appearance in WWE in 2005. Since then Seth Rollins has been successfully wrestling over the years. Apart from wrestling, he is also an actor in the daily show temple Sharknando. He was the winner of the ring of honour championship once, tag team championship twice and also the winner of survival of the fittest contest. He also competed in various ring names like Taylor Blake and Gix.
Dolph Ziggler
Dolph Ziggler, The man who can turn his face like a heel and a babyface depending upon the storyline was one of the handsome wrestlers in WWE. He has been involved in various storylines over the years and he continues to do the same. Apart from wrestling, he is a famous standup comedian and an actor.
Randy Orton
Most Handsome WWE Wrestlers: Randy Orton is a third-generation wrestler and a handsome hunk who has got various accomplishments over the period of time. He is the mainstay in the WWE circuit who continues to draw huge crowds for main events like WrestleMania and summer slam. He is the winner of 12 WWE championships, 8 WWE heavyweight championships, and 4 world heavyweight championships.
Also Check : https://sportsroid.com/equipments-and-types-of-contact-sports/
John Cena
The unconquered emperor of WWE history John Cena is also a handsome hunk who is always number one both in record books as well as in his looks. He is the most successful wrestler of all time and is also regarded as the greatest wrestler the WWE has ever produced.